The Party
FreeZim Congress is a forward-looking, progressive, democratic and serving social-workers party. FreeZim Congress believes that in a progressive and compassionate society, freedom is indivisible. The suffering, poverty, oppression and descrimination experienced by one will be be experienced by many directly or indirectly. Therefore a free, open and united society is most ideal for peace and advancement of mankind.
The History
FreeZim Congress was concieved in 1986 with the first solid steps for public engagement taken in 2005. This was in response to the death of progressive leadership worldwide and the non-existance of compassionate and visionary leaders in Zimbabwe after Sekuru Kaguvi and Mbuya Nehanda (of the First Chimurenga); Lobengula and Mzilikazi all in the first struggle against oppression, slavery and racial domination by settlers. The second struggle was led by nationalist Josiah Tongogara, Herbert Chitepo, Edgar Tekere, Ndabaningi Sithole, Edson Zvobgo, Robert Mugabe, Dr. Nathan Shamuyarira, Emmerson Mnangwagwa, Solomon Mujuru (Cde Rex Nhongo) (in Zanu PF) and Joshua Nkomo, John Nkomo, Lookout Masuku, Dumiso Dabengwa (PF Zapu) and many other heroes and heroines not mentioned here. Zanu PF and PF Zapu merged to form a united party Zanu PF in 1987 (Unit Accord signed on 22 December 1987).
The founding President of FreeZim Congress had the foresight to realise that after the leaders of the Second Chimurenga, our nationalist leaders, he had to take the batton of political leadership to guide Zimbabwe through the final phase of its liberation, the quest for true freedom - the Third and Final Chimurenga. The Final Chimurenga FREES Zimbabwe from all forms of human struggle - the struggle against poverty, homelessness, curable diseases, injustices, prejudice; tribal, racial and gender discrimination; oppressive rule, oppression of mankind by mankind, economic slavery, deliberate economic exclusion of many by a few, and many other daily struggles.
It is unfortunate that the good objectives of our late and surviving nationalist leaders have been hijacked by reckless and greedy young men and women both in politics and business who do not have the interests of Zimbabwe at heart. Their single objective is to accumulate material wealth at all costs.
FreeZim Congress offers progressive, compassionate and committed leadership that embraces the ideals of our forefathers and nationalist leaders. Its objective is to lead the social and economic development of Zimbabwe for the benefit of all Zimbabweans primarily and second, the world.
FreeZim Congress Political Leadership
Details of the party structure are obtained from our Constitution.
Available Downloads
1. FZ logo.pdf (0.017 MB)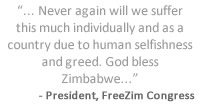 In The News
2018, TOGETHER, CHANGE IS IN OUR HANDS
Sunday, April 30, 2017
Government has run out of ideas. So parents pay schools fees with goats. Many people lost their cattle in 2007-8. What's next? No to such low in our country. We call upon the youth of Zimbabwe to reject such and to lead the change campaign in 2018. ...Read More

DRAFT CONSTITUTION
Saturday, March 16, 2013


Today, 16 March 2013, the majority of Zimbabweans vote in a referendum for a constitution they have never seen. The following are the reasons we say NO to the Draft Constitution:

(1) Accountability of the President: It is not stated explicitly how and under what conditions can the President be held accountable ...Read More